I am horrible about surprises. I always guess what Justin is getting me or has got for me and then he complains. When the rolls are reversed, I can't wait to give him his gift. I have been the same with the girls at times but only when they were younger and now I have done it with Vada and this years birthday gift.
Vada's birthday "theme" is rainbows so I thought that it was only fitting to get her this
Double Rainbow Maker from Kikkerland
. When the sun is shinning bright it powers up the colorful motor which makes the
Swarovski Crystals
osculate, creating rainbows of all sizes that strobe over the rooms surfaces.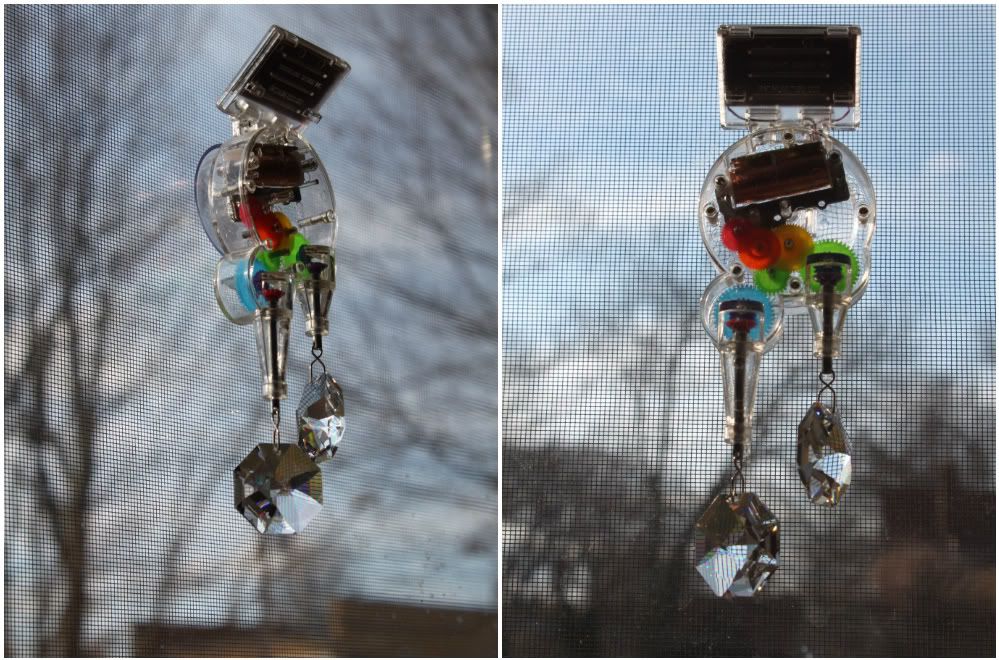 I like these tiny rainbows on the window sills the best. The pictures don't justify how pretty they actually are, but the ones on the sill looks like little pieces of moving glitter.
Kiliegh surprisingly loved the rainbows. (How funny is it that I painted her nails in rainbow colors just the night before we received the rainbow maker? Rainbows are on all of our minds lately, we are constantly talking about the things that we could do for Vada's party...)
Vada did not seem to notice all of the colorful movements on her bedroom walls and the excitement for the girls quickly wore off. I however, continued to smile as I watched the reflections swim around. My grandmother had crystals hanging in every room of her house and this reminded me of her.
Once the girls were done being impressed with Vada's new gadget they discovered what they could do with the humidifier. Funny thing is, I never knew that you could do this...
Even Vada was impressed.
See what happens when you don't let your kids watch t.v. on school days? They end up finding all kinds of things to keep them occupied!