Yesterday, after being discharged form the hospital but before leaving, Vada and I had the opportunity to
finally
meet
Annie
, her precious daughter
Ollie
and
Janie
, Annie's fabulous Mother.
They
had brought Ollie for her own doctors appointments and asked if after they had finished up their business if they could stop in and say hi to us. It ended up that
Vada
got discharged around the time that they were having lunch, so it worked out perfectly.
I think that it's pretty safe to say that we were all a little tired yesterday because in one way or the other we had gone through a lot that day and we still had the drive home waiting for us, so we kept this visit brief.
Vada loved Ollie and was very curious about her.
She also enjoyed the separate snuggle time that she received from both Annie and Janie.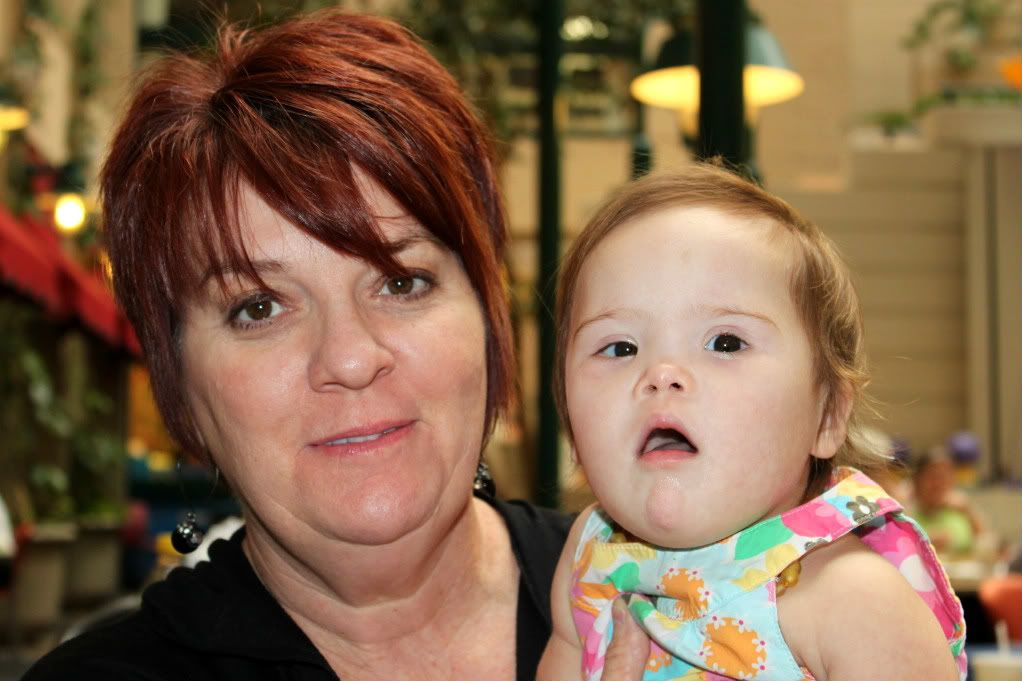 I enjoyed my own snuggle time with Ollie. She makes me want more babies
but don't tell my husband!
When I shared all of these pictures with Annie I told her that I thought that the back side of Ollie's head is quite cute because lets face it, it is. I then told her that we would have to get together again because I wanted a picture of her and I with Ollie's face showing. At least I got a couple of the girls together, those are the important ones!
Meeting with Annie, Ollie and Janie today was such a blessing, ever since we found out that our Vada had Down syndrome I have noticed more people who share the same diagnosis as her. Whenever I see someone who has Ds I try not to look too long or to act any differently because I know at times others do it to us and it gets uncomfortable. Inside however, I get all bubbly. I want to talk with each and every person that I see who has this wonderful bonus chromosome and if their younger, I want to talk to their parents. I want to have lunch, exchange numbers and get acquainted but I never do. I try to think of each situation in comparison to Jasmine and Kiliegh and in the fact that I wouldn't walk up to another parent who I didn't know and say "Hey, I have an eleven year old too, lets do lunch." So, when I do see parents walking with their young child who happens to be more like my Vada than not, I exchange a small smile and keep walking. Secretly, sometimes, I hope that they stop me.
Please don't get me wrong, I dont want to get to know others so that I can compare Vada to anyone else with or without Ds. I just like being around people who have it. I like seeing all of the stages. I like hearing all of the stories (good and bad) because I feel as a person and as a mother I grow from them. I love my children and I love who they are. I want to be a part of each of their lives in every way that I can. I cant imagine having a closer bond with Vada than I have right now but she is still very young and our bond now has a lot to do with the stage she is in. Being around others who share the commonality of an extra chromosome, makes me feel closer to her. Plus they teach me so much about things I never knew I needed to know.
Its hard for me to find the right words to express my love for Down syndrome but when it comes down to it, I love this trait, this diagnosis, this extra chromosome-- whatever you want to call it, I love it. Its a part of what makes Vada who she is and I feel drawn to others who also have this bonus because it's a shared uniqueness with my sweet girl. Meeting other families and other people who have Ds, spending time with them, talking with them and getting to know them is such a treat for me. There is something different that's shared between strangers who have children with Ds verses strangers who have typical children and maybe it's just a different form of a common ground, but never the less I am proud to be standing on it!
Thank you Annie, Janie and most of all Ollie for taking the time to visit Vada and I during a very difficult time. You were the rainbow at the end of this storm.